Parents are our best resource to "spread the good news" about our wonderful school.  As a way of thanking our parents for being "good ambassadors" and recruiting new families to register at St. John's, we offer the "Ambassador Program," which rewards both the recruiting and new family.
 
Here's how the program works:
 
-For NEW families to Grades 1-8:  BOTH the referring family and the new family will EACH receive a "$200 voucher" to apply towards their tuition.
-For NEW families to Kindergarten and Pre-K-3 & 4:  BOTH the referring and the new family will EACH receive a "$50 voucher" to apply towards their tuition.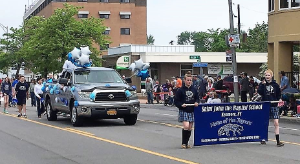 FAMILIES MAY EARN AN UNLIMITED NUMBER OF VOUCHERS EACH SCHOOL YEAR!
The best endorsement of a product is your personal endorsement.  We sincerely appreciate your positive comments and recommendation of our school and hope that this program will express our gratitude for ALL that you do in promoting the St. John's School community.  Thank you for spreading our good news!

Please note the following rules apply:
Vouchers will be issued in October of the school year for  September registrants; vouchers will be issued on the second subsequent month  of attendance for mid-year transfers to St. John's.
Families may submit this one-time voucher towards their tuition payment for any month, thereby reducing their tuition payment for that given  month.
Vouchers MUST be used by June of the school year.
Vouchers are non-transferable and may not be redeemed for cash or any other form of fees, B.E.S.T. Program, parish obligations, etc.
The NEW family must designate the REFERRING family at the time of registration; the NEW family's choice is final and non-debatable.
The NEW family MUST fully complete the registration  process.
The REFERRING family earns one voucher for each new family referred; the REFERRING family may earn an unlimited number of vouchers.
The NEW family earns one voucher per family regardless of the number of children enrolled; the NEW family may earn only one voucher.