Teacher's Name: Mrs. Marie Doyle
Grade/Subject: Kindergarten
Contact: mdoyle@stjohnskenmore.com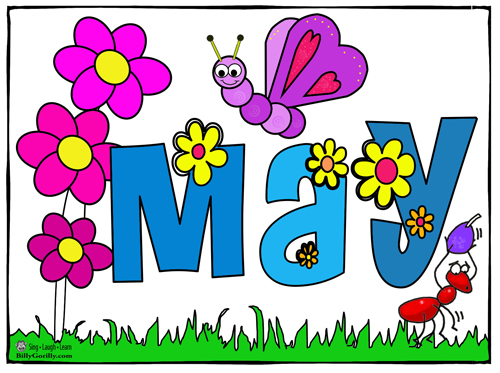 ST.JOHN'S FAMILY DRESS DOWN DAYS
St. John's will be sponsoring five $1 dress down days throughout the month of May.
All proceeds will go directly to the Garrity family to help with household expenses and
medical bills related to Mrs. Linda Garrity's multiple diagnoses. Mrs. Garrity has served
as both a teacher and administrator at St. John's for the past 15 years.
Even though our Kindergarten students do not wear uniforms, please consider donating
$1 on these days to support the Garrity family.
The dress down days are Thursdays: 5/2, 5/9, 5/16, 5/23
& Friday 5/31
SCHOOL MASS
Please join us for Ascension Thursday Mass on Thursday, May 30th at 9:00 a.m.
in the Church. We will also be attending the 7th & 8th grade Moving Up Day Ceremony
on Friday, May 3rd at 9:00 a.m. and the May Crowning presented by our
3rd graders at 9:00 a.m. on Monday, May 13th.
MOTHER'S DAY PLANT SALE
The children will have an opportunity to purchase small plants during the
Mother's Day Plant Sale on Wednesday, May 8th & Thursday, May 9th.
Please watch your child's take home folder for more information.
NO SCHOOL
There will be NO SCHOOL on Friday May 10th due to a Staff Development Day.
In observance of Memorial Day we will also have a long four day weekend with
NO SCHOOL on Friday, May 24th - Monday, May 27.
SPRING BOOK FAIR
The Home School Association will sponsor a Spring Book Fair 5/13 - 5/17.
Kindergarten will attend the book fair during their Library period on Monday, May 13th.
There will be special evening hours on Wednesday, May 15th from 5-7 p.m. please
enter through the front flag pole doors on Belmont Avenue
(Please Note: the date was incorrect on the calendar that was sent home).
SPRING CONCERT
There will be a Spring Concert on Wednesday, May 15th at 6:30 p.m. in the Church.
Kindergarten is not performing in this concert as we previously provided the
entertainment for the Christmas Concert. Everyone is invited to attend!
ROCK AROUND THE BLOCK PARTY
Kick off the Memorial Day Long Weekend on Thursday, May 23rd from 6:00 - 9:00 p.m.
in our school parking lot with all your St. John's friends!
There will be food trucks, live entertainment and beverages to enjoy!
Bring your family and friends...the more the merrier!
UPCOMING DATES OF IMPORTANCE FOR KINDERGARTEN
It is hard to believe that our Kindergarten Year is winding down!
Our last day of Kindergarten will be Monday, May 17th.
Please Save the Date and plan to join us!
There will be a special end of year presentation by the Kindergarten Class
followed by a picnic lunch and walk to Anderson's for dessert!
Please watch your child's take home folder for more information.
MAY:
8th & 9th - Mother's Day Plant Sale
10th - NO SCHOOL
13th - Kindergarten attends Book Fair
23rd - Rock Around the Block Party 6:00 - 9:00 p.m.
24th - 27th - NO SCHOOL - Memorial Day Long Weekend
The following is a list of skills and ideas that would be helpful for you to work on regularly with your child:
Read aloud to them daily and have them read to you!
Identify their name (first, middle & last).

Recognize the 26 letters of the alphabet (upper case & lower case).

Identify the sounds that each letter makes.

Print their first & last name.

Identify the basic colors of the rainbow.

Identify the basic two dimensional shapes (bonus for knowing three dimensional shapes).

Recognize​​​​​​ numbers 1-20.

Practice counting by ones and tens (end of year goal is to count by both to 100).

Counting out objects to make groups of up to 20.

Help them identify and create rhyming words.

Practice coloring.

Practice cutting & gluing.

Encourage them to follow simple directions.

Practice being able to handle their own personal needs such as putting on and taking off their jacket. They should be able to zipper, snap & button most of their

own clothing.

Help them learn to tie their own shoes.

Encourage proper hand washing & personal hygiene (use of tissues).

Independently open their own food & drinks for snack and lunch.

Practice address & phone number (end of year goal is to know both).

Model and encourage respectful behavior and good listening skills.
Our year end goal in Kindergarten is for everyone to be reading and writing independently!
The following list includes the 100 sight words we will be introducing:
a did hot not ten
all down I of that
am drink if off the
an fast in on three
and find into one to
are for is pick too
ask full it play two
at fun its pull up
away get jump put upon
be go just ran us
best good let red was
big got let's run we
black had like said well
blue has little see went
brown have look seven where
but he make she with
can help me sit will
come here must six yellow
cut him my stop yes
do his no tell you